CDS Currency Service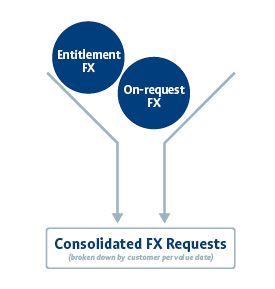 The service offers two formats for participants to submit their instructions:
Entitlement FX – Participants select a specific entitlement event and enter the number of units that require conversion. Elections are reconcilable with the entitlement event and there is no need to calculate total FX required per day.
On-request FX – Participants make currency elections by entering the dollar amount required per day. This option provides flexibility and accommodates entitlements that do not have pre-determined payable dates.
Benefits/features
By leveraging TMX's existing cash transaction infrastructure, CDS is able to provide a cost-efficient, seamless FX service that provides value to:
Participants who benefit from the economies of scale obtained by CDS. As a subscriber to the service, CDS participants can receive funds in a currency that is ready to be immediately credited to client accounts.
Issuers who can offer FX alternatives to their shareholders without requiring an in-house FX program. There are no service costs or conversion fees to issuers
Beneficial owners who can receive entitlements payments in a currency of their choice on payment date.
There are no subscription or transaction fees associated with the CDS Currency Service.
For more information or to subscribe, CDS Clearing participants should contact their customer service representative.